Images That Help in Enhancing Your Digital Marketing Strategy
Visuals like photo, screenshot, video, play a pivotal role in digital marketing. Amidst these, photos emerge as a winner because they boost engagement, grab your reader's attention and make your content notable. However, many businesses opt for stock images which in turn do not manage to pull enough traffic as desired. So, there are various types of images that are a breather to boost traffic and brand building. And if you enroll in the best digital marketing course in Pune then you'll definitely learn the benefits of these images. Hereby, listing some of the prominent ones.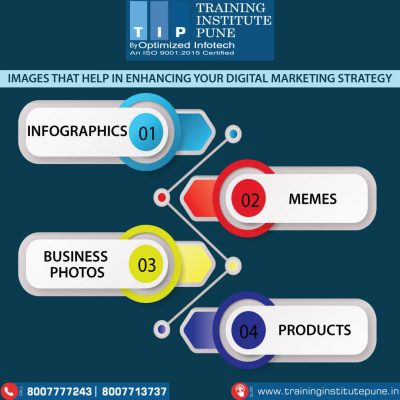 Infographics
Infographics are very popular in the social media circuit and are widely shared on platforms like Pinterest, Facebook, and Twitter. Infographic – a long format image, is a great way to illustrate information with the help of a picture. An infographic is shared several times by blogger or digital marketing experts. Interestingly, if you include your website URL, then it is a win-win situation. Most importantly, the infographic is a great way to influence people who are interested in the topic.
Memes
We all know how memes have left the internet into a laughter riot. Today, you can not only share meme but can also create one by yourself. And interestingly, meme never goes unnoticed unless it is complemented by enticing content. Moreover, you can create a meme that suits your business and are sharable among your social circuit. Above all, if you enroll in a productive digital marketing course in Pune, then they will definitely strengthen your creativity and innovation to do better for your brand.
Business Photos
Whenever a business shares its inside story, it automatically generates human touch. Sharing the achievements of your employees, unique activity is undertaken in office, showcasing pictures of office pet, highlighting the interiors of office, etc., are some of the ways to boost engagement among your readers. Readers sometimes like to get personal and if you are offering them on the platter then in return you will earn their loyalty. Moreover, in the digital marketing course in Pune, you will discover the extensive outcome of good photography.
Products
If you have some enticing products like – cupcakes, vintage articles, goodies then photos can turn them into an extravagant engagement for the readers. When businesses share high-appealing, high-quality images of their services, they do manage to pull a crowd. With product photography, you not only showcase your talent but it also helps in building your identity in the online world. You can either hire a professional photographer or photograph your product by yourself. Moreover, there are so many editing tools to enhance the pictures which you can learn in a digital marketing course in Pune.
Well, pictures speak a thousand words and that's why they are so important to build a brand. But if you want to know more about the efficiency of visuals then do enroll with Training Institute Pune (TIP). At TIP, we teach you the ways of brand building and how visuals play a pivotal role!