Why Learn Social Media Skills While Undertaking Digital Marketing Training?
It's been proved time and again that Digital marketing is unequivocally one of the best marketing strategies. Gone are the days, when outdoor advertising, newspapers, and television were the only ones that affected the customers. Thus, these traditional marketing strategies have taken a backseat and have been overtaken by digital marketing swiftly. Amidst this, social media plays a vital role and that's why digital marketing training institutes are also showcasing the prowess of this module. Social media not only helps you connect with your loved ones but is a great boon for networking. So, let's explore the role of social media in the shaping of digital marketing.
Personalized Touch With social media, everything has literally become transparent. This furthermore helps in knowing the personal choices of your leads. This sneak peek helps in shaping a strategy that suits the requirement of the lead on a daily basis. Moreover, you can group them as per their likes and dislikes, thus helping you meet credible customers. With a prowess like this, a digital marketing training institute also emphasizes on mapping the customers on social media.
Room For Sales Social media is flooded with users across the globe and so you have an array of the audience for your product. Most importantly, if you display your product at every blink of the eye, then they will never forget the impact. And this will help tremendously to up your sales graph. Along with this, if you offer complementary services, then it can turn into a fruitful transition for your business.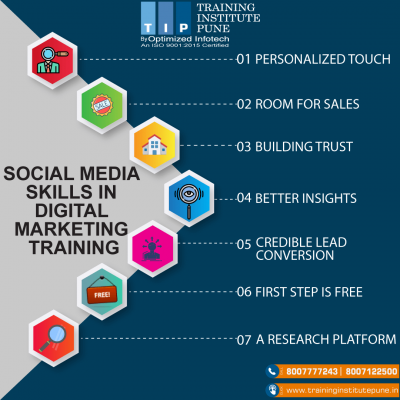 Building Trust Whenever we come across any product, the first thing we do is – we either Google or check for its social media handle. When on social media handle, then we go through the reviews of the product and that's how as a consumer we build trust. Branding plays a pivotal role and social media gives you an opportunity to do so. Branding helps to build trust among the masses, and add your voice can touch the right chords with social media. So, a digital marketing training institute teach the importance of social media and highlight to take it seriously for your business needs.
Better Insights When a customer comments on your page, it is a great way to get leads. Social media helps you in analyzing the customer. With the comments and notes, you can actually bring up a precise list of targeted customers. Furthermore, you can channelize their traits and comforts thus helping them find ease with your product. Though a very healthy practice – make sure you use it wisely. And that's exactly when digital marketing training comes handy which makes you debonair to shape the best strategy.
Credible Lead Conversion Whenever you share any update or post, the comments and likes you are floored with are a living example of your lead conversion. Not every time, this might be a scenario but it definitely helps. But it helps you to speculate – the likes and dislikes of your probable leads, thus coming with a personalized strategy. With social media, you can design graphics like infographic, post, content that attracts customer thus helping your business prosper.
First Step Is Free The first step towards social media is creating a page or account and that's free. Once you create an account, you can advertise your business limitlessly. With your page, you can target your audience, connect with leads, approach them, pitch your business and eventually expand your business. Most importantly, social media is a great platform to learn and grow. The comments will help you improve and enhance your skills while catering to their queries.
A Research Platform As mentioned above, social media helps you research about the traits of the prospects. The posts, content you upload helps you map their behavioral patterns thus helping you plan. Most importantly, social media helps your business to be on the top, thus giving more visibility. All-in-all, social media is a boon to boost the value of the business. But before that, it is imperative that you have knowledge about the nuances of digital marketing. And for that, you can enroll with Training Institute Pune (TIP) that is spread across Pune – Viman Nagar, Kothrud, Wakad, Shivaji Nagar, Hadapsar, and Pimpri-Chinchwad.